A COLLECTION OF FESTIVE RECIPES FOR A YEAR OF CELEBRATIONS 
---
FEATURED RECIPE
Shortbread Heart Cookies
Makes 12 assembled cookies
Shortbread:
2 sticks unsalted butter, softened
1/2 cup granulated sugar
1 tsp pure vanilla extract
2 cups flour
One 10 oz. jar seedless raspberry jam, such as Polaner Spreadable All Fruit
Optional: Confectioner's sugar for dusting.
Buttercream frosting:
1 stick unsalted butter, softened
1 tsp pure vanilla extract
1 cup confectioner's sugar
Please note:  The hardcover imagewrap edition has a matte cover.
The softcover, my personal favorite, has a glossy cover.
Any questions, please email me.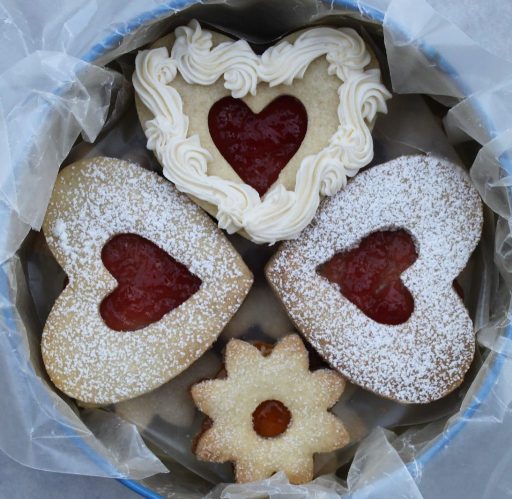 Directions:
Preheat oven to 350 degrees F. Line cookie sheet with parchment paper. In the bowl of an electric mixer with paddle attachment, cream butter and sugar on high speed for two minutes. Scrape sides. Add vanilla and beat for 3 minutes until lighter in color. Scrape sides. Gradually, add flour and beat until incorporated. Roll dough between two sheets of plastic wrap or lightly floured waxed paper until about 1/4-inch thick. Using a 3″ heart-shaped cookie cutter, cut hearts. Using a 1″ heart-shaped cutter, cut hearts out of the center of half of the large hearts. Bake for 10-12 minutes on parchment-lined baking trays. Cool completely on wire racks. Spread 1 TBS of jam (I spoon jam into a bowl and stir before using.) on each cookie half which will serve as the bottom. Sift confectioner's sugar on top half or decorate only with frosting using a pastry bag with a star tip as shown in the photo. Place dusted cookie or frosted cookie on top of the jam-layered cookie.
To make buttercream frosting:
In the bowl of an electric mixer with paddle attachment, beat butter and vanilla until smooth. Gradually beat in confectioner's sugar at low speed.
Beat at high speed 2-3 minutes until fluffy.